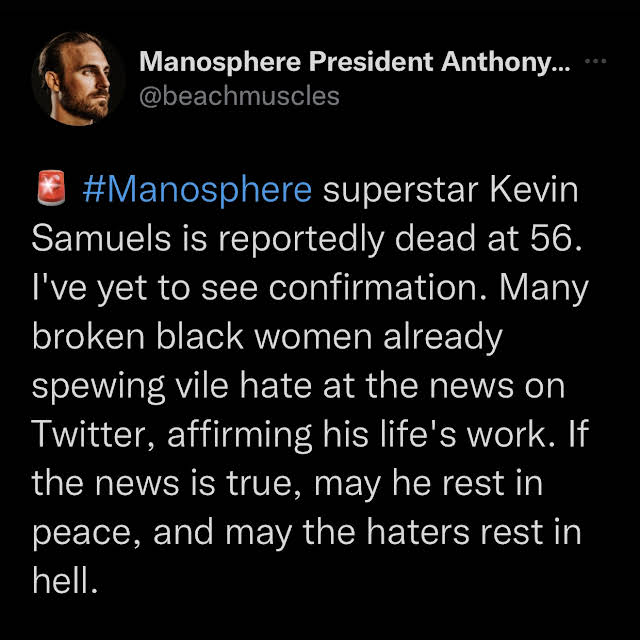 Yesterday rumors began circulating that manosphere super star and popular YouTuber Kevin Samuels had died of a heart attack. The news looked potentially fake (and malicious), and with Coach Red Pill also recently reported dead (which turned out to be false) I held back commenting.
The news continued to circulate, and then this morning his mother confirmed to NBC News that Kevin had indeed died. There are few details. Kevin was not obese or observably unhealthy, so speculation is focused on whether the heart attack was natural, faxxine related, or if there was a lethal combination of cocaine laced fentanyl involved. More wild theories involve foul play due to his impact on American black women, but I would think this goes off into tin foil hat territory.
The comments on Twitter from woke BLM types and many black women in particular are truly nasty. Celebrating his death openly. As NBC states quite plainly, Kevin would often spark outrage among American black women for confronting them on their beliefs, attitudes, and opinions.
Black women are very high up the victim hierarchy in our woke victim Olympics so even for black men this sort of raw, blunt commentary and confrontation is typically forbidden. Like many of our speakers Kevin constantly risked being cancelled for this type of content.
Kevin got his start on YouTube in the general manosphere as well as "black manosphere" in my understanding. The "black manosphere" is its own self-identifying group within the manosphere, similar to MGTOW or pickup artists/dating coaches.
A few years ago Kevin started confronting the delusional attitudes of modern women in general and black women in particular. He skyrocketed from 300,000 subscribers to 1.4 million in about two years as I understand the timeline of events.
Kevin was recommended to me as a speaker for The 21 Convention in early 2019. This year I was considering an invitation for him to The 22 Convention to speak on Making Women Great Again.
I had mixed feelings about Kevin which I addressed here on my Instagram. Overall I think he had a good message for men and women, he was a net positive to them, to the manosphere in particular, and the American black community in general.
Kevin was arguably the highest profile manosphere related personality alive until yesterday. It is sad that he's dead at a relatively young age, and the comments celebrating his death are genuinely vile. In a sense they affirm much of his work combatting nasty men and women who did not want to hear blunt truth. but instead wanted their existing beliefs validated.
~~~
It's worth noting that there have been a string of recent deaths in the manosphere. Former 21 Convention speaker (London, 2012) and notorious day game pickup artist Tom Torero committed suicide earlier this year.
Two time 21 Convention speaker (2018 and 2019, Florida) and popular conservative radio host Pat Campbell also died of brain cancer late last year, one day before our 21 Summit event.
Former 21 Convention speaker Stefan Aarnio also died of cancer in spring of 2020, barely 6 months after speaking for his first time at The 21 Convention.
Alumni 21 Convention speaker Andrew the Private Man died from an extremely rare eyeball cancer in early 2017.
Everyday could be your last. These were all good men who worked diligently to help men improve themselves as men, to navigate the world as men, to win and succeed in life just that much harder. They left the world early, especially in Stefan's case, still in his 30s.
Let these men be a reminder to have courage everyday, to pull the trigger, and to never be a pussy. There's no room in this one life you have to let fear dominate your decisions.
Anthony Dream Johnson
1st President of the Manosphere
Founder, The 21 Convention
Dean, 21 University
CEO, 21 Studios
P.S.
You can watch Kevin's videos on his YouTube channel here. I expect they'll be up for years to come.